GP NEWSLETTER
Promote Your Practice and Healthy Habits 
Give your patients a  beautifully designed practice newsletter written by and reviewed by Australian medical experts.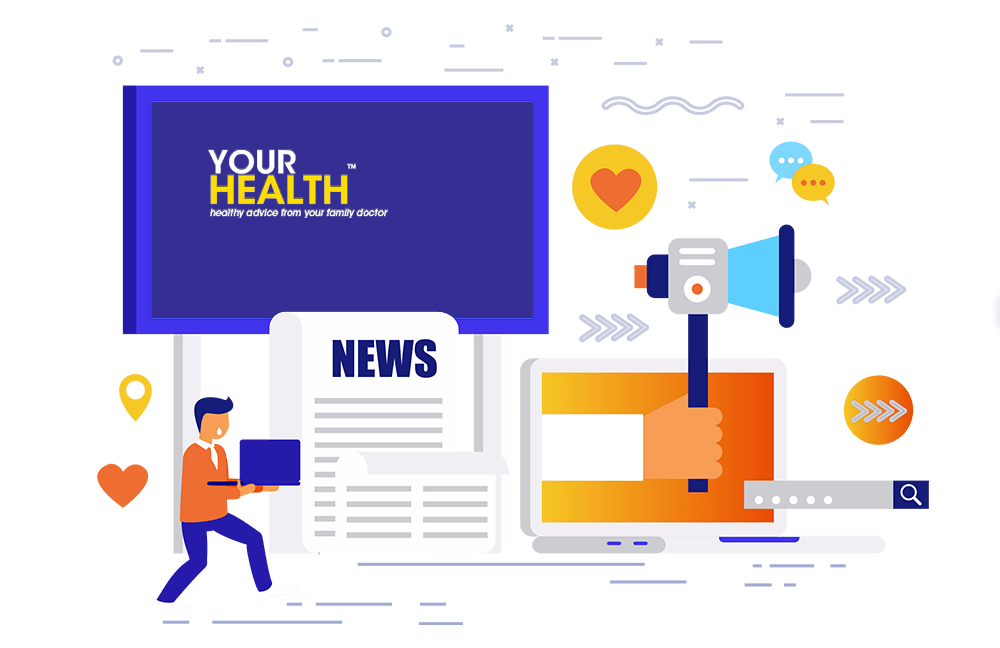 Educate your patients about healthy behaviour from the beginning
Enhance your duty-of-care by encouraging patients to engage with their health from the moment they first encounter your practice. Give yourself a professional edge with a thoughtfully designed, GP reviewed newsletter filled with valuable health articles and the latest information from your practice. Place it in your waiting room and give to new patients who enrol with your practice.
A GP newsletter designed for practices of all sizes
Whether you are a single doctor, or in a group practice, Your Health newsletters will enhance the perception, quality and professionalism of your service.
Practice newsletters contain plenty of space for information about your doctors, staff, services and policies to ensure you meet accreditation requirments with ease.
Enjoy reduced subscription costs by including additional information such as promotions for allied health partners or pharmacy deals.
Packed with health content that delights and informs
We research the latest in consumer health information and write compelling, easy-to-read articles on seasonal subjects of interest, men, women and children's health.
Every single edition includes healthy recipes, light hearted humour and substantial reader giveaways.
All articles are uniquely composed by experienced Australian medical writers.
Our panel of GP's further reviews the content prior to publication to assure the accuracy of health advice.
Produced with your best interests in mind
Your Health GP newsletters are less expensive than printing in-house and available in quantities to suit any size of practice
Our shipping partner delivers Your Health in an environmentally-friendly, carbon-neutral way by positively 

impacting the biodiversity of the

 Annya State Forest. 

A quarterly publication cycle ensures relevant health news and practice information is maintined and current.
We provide plenty of notice before the next edition goes to print so you don't have to worry about ensuring your practice information is up-to-date.
Digitally Enhanced
Use our widget to embed the entire archive of over 250 health articles on your own practice website.
Access an archive of your practice's newsletters in digital pdf format optimised for online viewing.
Use our email module to automatically send e-newsletters to your patients formatted for desktop, mobiles and tablet.
Ensure your patients have an experience they remember for all the right reasons
Make sure they enjoy the wait
Nobody enjoys waiting around but it's an inevitable fact in the unpredictible world of GP appointments. Your Health provides useful health information, jokes, quality prizes and competitions to help relax and engage patients in the waiting room. 
High quality economical printing
Every edition of your GP newsletter is made up of 4 × A4 pages produced using the latest offset and digital techniques on 130 gsm paper. And Your Health subscriptions cost less than it would for the printing alone at other well known office supply stores.
Promote healthy behaviour with ease
Your Health articles are meticulously planned in order to promote healthy behaviour and encourage patient communication with GP's. It's one part of your practice's ongoing accreditation that you won't have to worry about. 
Customisable practice information
Details about your practice and policies can be updated as often as you like. Simply access Your Health's admin dashboard and make the changes online, ready for inclusion in the next edition of your practice newsletter.
Your readers will feel at home
Our articles are planned and written to be topical and fit with the seasons. We select images that look Australian too. And the newsletter can be branded to match your organisation using your unique practice logo.
We're with you for the long haul
Your Health has been producing GP newsletters to help practice's with accreditation for over 20 years. We pride ourselves on the high quality of our service and we survey our subscribers regularly to ensure continuing high standards.
Patients and staff love it…
"Our patients love reading the articles in the Your Health newsletter, have a giggle with the joke and the recipe is always a hit. The staff love it as they can hand something classy to new patients with all our details, saving time talking about us."
A leading-edge GP newsletter…
"Your Health is a 'state of the art' newsletter which is colourful, informative, topical and very appealing to patients who eagerly look forward to the next issue.
It looks great, costs little and is a true asset for my practice! I recommend it to all my colleagues."
Get's the message to patients…
"My patients like the articles. It helps them understand their conditions in their own terms.
Your Health is also a useful tool for alerting patients about important practice changes."
Your Health GP newsletters place health promotion at the heart of your practice's values 
GIVE YOUR PATIENTS THE GP NEWSLETTER WITH HEALTHY BENEFITS!
Subscribe to Australia's highly respected, peer-reviewed quarterly health newsletter.
Meet your practice accreditation needs and educate patients on living well and making the most of visits to their GP.
Easily personalise and brand the newsletter with your practice information and logo.
Distribute paper copies in your waiting room and include over 250 digital health articles as an integrated online feed on your website.
Enjoy the freedom to choose a quantity that suits your practice and cancel at any time.
Get a free widget to display the entire archive of articles on your website, with updates taken care of for you. 
Order your practice newsletter before we print the next edition!
Australia's only digital and creative marketing platform designed to cultivate growth and help medical centres thrive.
Get in touch

Unit B
19–21 Loyalty Road,
North Rocks, NSW 2151

1800 640 075
02 9437 1355